Customized Rehabilitation and Fitness Programs
Performance Rehabilitation
---
More than 10 million sports injuries are treated each year in the United States. Our doctors are uniquely skilled in sports injury rehabilitation because of our expertise and extensive training in the nerves, muscles and skeletal system, and how these systems work together.
---
Athletic Gaines is a fully integrated, state-of-the-art, fitness and performance training brand. Our purpose is simple, optimizing peak athletic performance. Our Training style is one of the most recognized trainers in professional sports, whose training methodology has been tested, applied, and proven on countless NFL and NBA first round draft picks, NBA and MLB All-Stars, NFL Pro Bowlers, MLS Champions, League MVP's, and Olympic Gold Medal winners.
The Athletic Gaines methodology offers proven performance training for athletes and fitness enthusiasts of all ages, and anyone seeking an increase in ability, speed, agility, performance and strength. Our facilities and programs also put an emphasis on conditioning and training designed to reduce injury in competition, and is complimented by our on-site physical therapy and sports medicine which is conducted by highly skilled professionals.
Types of Training Offered
1-1 Personal Training
Small Group Training for Adults
Small Group Training for Youths
Free Fitness Evaluation
Visit Synergy Chiropractic and Physical Therapy today to schedule a free assessment with one of our doctors.
Contact Us
Learn More About Performance Rehabilitation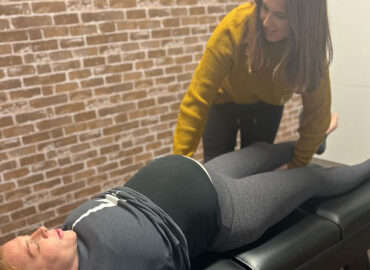 Experience holistic prenatal chiropractic care designed to ease pregnancy discomforts and prepare your body for a smoother, healthier birthing journey.
Chiropractic care is the leading natural and non-invasive approach to treating chronic spinal pain and musculoskeletal conditions.
Specializing in orthopedic, manual and sports physical therapy, we provide patients with the greatest potential for recovery from injury and/or underlying dysfunction.
---