Use Your Own Body's Own Ability To Heal and Repair
Chiropractic Care
---
As a chiropractor who cares about utilizing the most advanced chiropractic techniques, Dr. Eric Blum has years of training, expertise and experience in helping patients not only get pain relief for back pain, neck pain, headaches, and other related conditions originating from the spine but total sports performance. Chiropractic under the guidance of an expert in sports rehabilitation can be used to prevent injuries and help you achieve total health or wellness.
---
Over the last 115 years, chiropractic care has been the leading natural and non-invasive approach to treating chronic spinal pain and musculoskeletal conditions. The field of chiropractic medicine continues to change, and our sports rehabilitation program uses this evolution and specializes in using the best combination of chiropractic care with physical therapy exercises for pain relief, correction, and enhancement of body performance. Chiropractic care works by first relieving the tension or inflammation to the delicate nerves of the spine. This irritation to spinal nerves is the chief cause of pain and dysfunction. A chiropractic manipulation or adjustment can be delivered in multiple ways and always explained to the patient beforehand. Chiropractic adjustments are safe and effective for restoring motion to joints throughout the body. Over the last two decades, a growing volume of research has demonstrated the efficacy and validity of chiropractic care as a viable, cost-effective treatment of musculoskeletal conditions.
At Synergy Chiropractic & Physical Therapy of Westlake Village, we have developed a unique methodology of treatment which emphasizes the clients' active involvement through therapeutic exercise, self-care strategies and improved awareness of healthy behaviors gained through education. Developed for the treatment of athletes, our processes have been adapted for the general population; this "active care model" has been shown to significantly improve the maintenance of spinal stability (a function of alignment and core strength) and mobility (a function of flexibility and joint mobility). Built upon a foundation of better body mechanics which is just one of the several healthy behaviors taught by us at Synergy Chiropractic & Physical Therapy, the client can expect to gain improved function and longevity. This combination of traditional and natural therapies allows our patients to truly receive the best of both worlds when it comes to healthcare today. By first focusing on relieving the inflamed and injured tissues of the spine and body, we can then go in and strengthen and rehabilitate the area, giving our patients a much healthier spine and body performance overall.
Free Laser Session For New Patients
Don't wait any longer. Jump start your recovery with our deep tissue laser. Laser therapy can alleviate pain, reduce inflammation and accelerate recovery from a wide range of acute and chronic clinical conditions.
Contact Us
Learn More About Chiropractic Care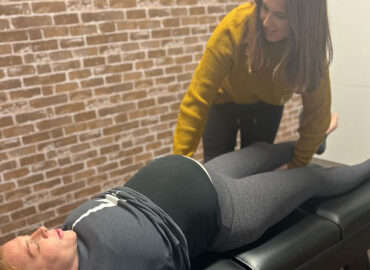 Experience holistic prenatal chiropractic care designed to ease pregnancy discomforts and prepare your body for a smoother, healthier birthing journey.
Chiropractic care is the leading natural and non-invasive approach to treating chronic spinal pain and musculoskeletal conditions.
Specializing in orthopedic, manual and sports physical therapy, we provide patients with the greatest potential for recovery from injury and/or underlying dysfunction.
---